New Car Treatment
A new car is quite often the second biggest purchase anyone will make. When the collection day arrives different dealerships will have different ways of making it that extra special, but in all cases their aim is to give that 'wow' factor when you first see your vehicle all new and shiny in the showroom.
You would expect a new vehicle to be in absolute perfect condition with flawless paintwork from every angle. Unfortunately we see all to often that cars are not correctly prepared resulting defects appearing in the paintwork. These defects can include buffer trails, swirl marks and hazing and sanding marks. This, along with poor application of protection, (if any), means your paintwork is at risk from the elements and doesn't look anywhere near as good as it should.
Most dealerships offer protection packages with bold claims of durability and ongoing care and will charge as much as they can get, anything from £50-£750+. The products often retail less than a tank of fuel and are applied by an in-house valeter after basic wash techniques. It is not unusual that these protection products don't last a few months or even weeks.
At Supreme Detail, we thrive on making vehicles look their absolute best and protecting them which is why our New Car Protection takes at least 1 working day to complete. The key, like most things is in the preparation, ensuring the paintwork is perfect. Not only meaning it looks its best, but also so the high quality protection is able to bond to the paint and work how it is designed.
Price:
from £300.00
Time required:
Approx. 1-2 days
The Process:
Remove delivery vinyl and stickers.
Multi-step exterior safe wash.
Decontamination of paintwork.
Inspect paintwork for imperfections.
Remove paintwork imperfections.*
Apply chosen protective coatings to paintwork.**
Apply protective coatings to glass, alloy wheels and exterior plastics.
Apply fabric and/or leather protection.
Final inspection of work carried out.
* Extra cost may occur depending on the outcome of paintwork inspection. This will be discussed with you before proceeding.
** Range of protective coatings offering various durability and price.
---
Winter Protection
Winter in the UK can be a harsh environment for your vehicle. Cold temperatures, salt on the roads and not many dry spells, your vehicle can quickly build up contaminants on the paint surface, glass, wheels and under the arches. But not to worry, our Winter Protection package is designed to rejuvenate and preserve your paintwork while ensuring it can be easily and safely maintained.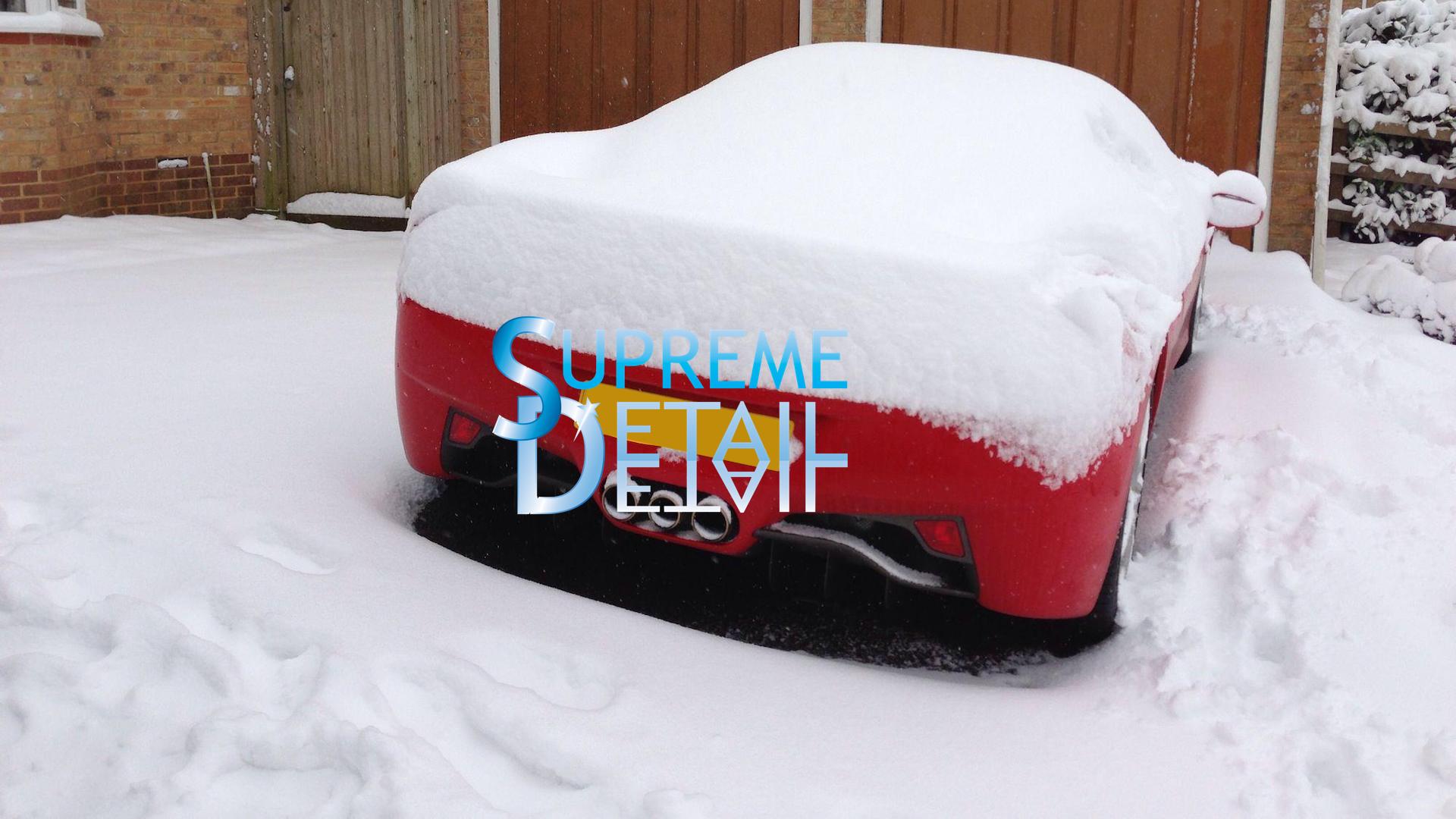 Price:
from £140.00
Time required:
Approx. 4 hours
The Process:
Wheels & under arches rinsed thoroughly.
Wheels cleaned using selection of brushes.
Vehicle rinsed thoroughly to remove loose dirt.
Tar and Iron containments removed.
Vehicle "Snow Foamed" and allowed to dwell before rinsing.
Exterior washed by hand using the "Two Bucket Method", including door & tailgate shuts and intricate areas.
Vehicle rinsed then dried using soft microfibre drying towels.
Paintwork & Glass "clay barred" to removed embedded containments.
Vehicle rinsed and dried.
Paintwork hand polished to improve depth of gloss.
**Machine Polish to remove light defects and improve depth of gloss. (+£90.00).
Glass cleaned and sealed with water repellant protective coating.
Alloy wheels sealed with protective coating.
Paintwork sealed with Polymer coating.
**Paintwork topped with a Hybrid Wax coating. (+£25.00).
Tyres dressed using non-splatter gel.
**Available at extra cost.
As every vehicle is different the treatment can be tailored to suit your exact needs. Please contact us to discuss your requirements. You can also add our Interior Valet, or Interior Deep Cleanse to this treatment.